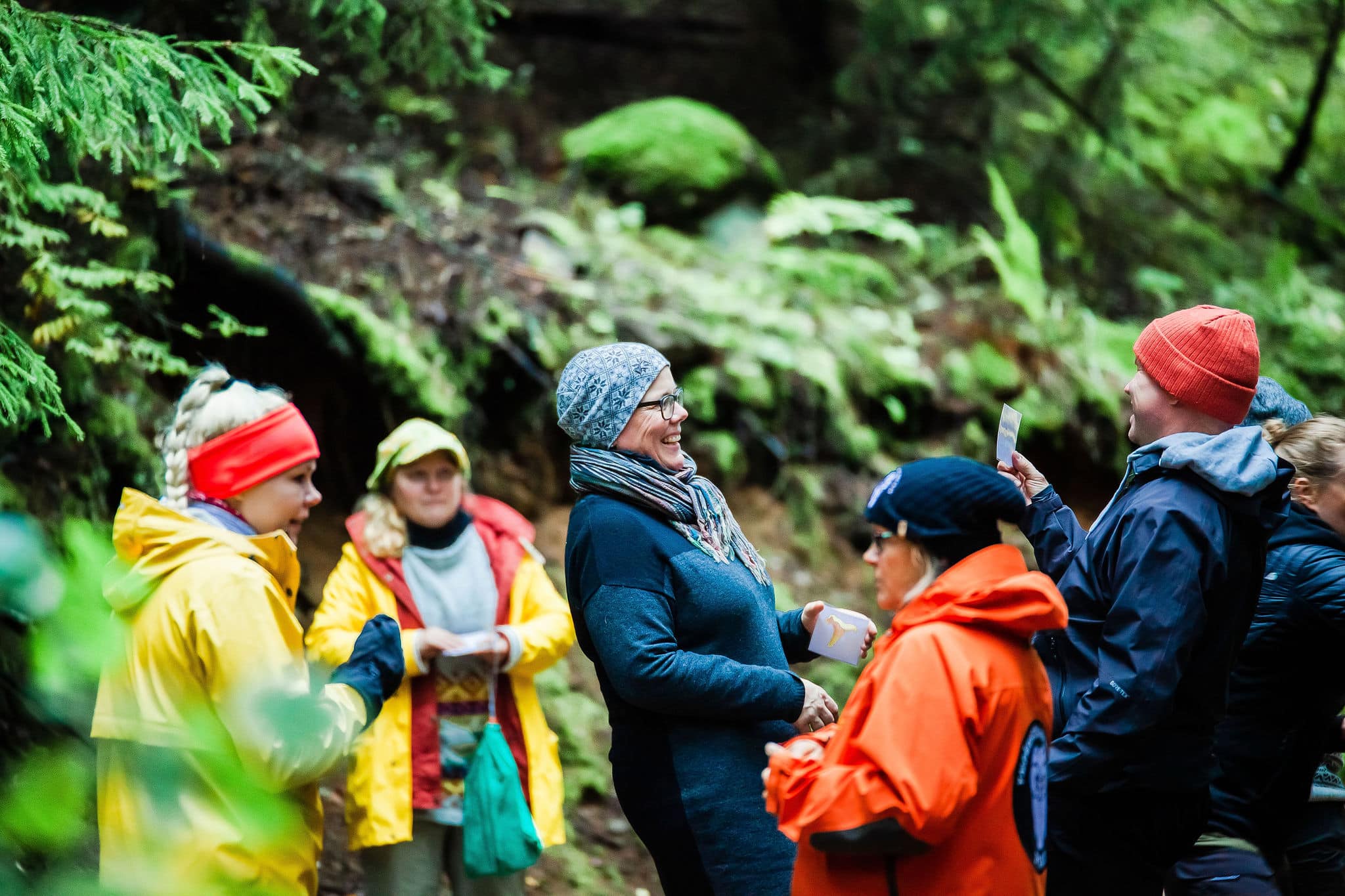 This course is about sustainability education and a showcase on various methods and focus areas on green competencies and a sustainable society.  
Interested in transforming your teaching into something that is more sustaining both for you, your target audience – and the planet
Dreaming of taking your teaching to new environments, perhaps outdoors, into diverse real life learning environments?
Needing pedagogical tools and hands-on activities?
Hoping to get more motivation and courage in taking up on sustainability issues both in your teaching and with your colleagues or other adults?
Pondering how to get started? Come and join us on this course in Helsinki in 2024.  

Why choose the 'OUT OF THE BOX – Sustainability education in Finland' course?   

Improve your understanding of key sustainability competences as per the European sustainability competence framework GreenComp. 
Try out various inspiring methods you can directly apply in your own teaching. 
Gain practical tools for sustainability education. 
Learn how to use authentic learning environments in your teaching. 
Exchange with and learn from other teachers from all over Europe.   
For whom? The course is for teachers working in lower and upper secondary education, vocational schools, or adult education, as well as other professionals in different fields interested in course topics or content. The methods introduced during the course can be applied to many different age and target groups.  
When? We have four courses during the year 2024. Read more and register below.
Where? In Helsinki, Finland, and nearby environments. 
By whom? SYKLI Environmental College is a national specialist vocational college. We train professionals in different sectors to take concrete steps towards sustainability. Our aim is to build green competencies and increase the quality of sustainability education at all levels of the education system and throughout society. In Finland, SYKLI is known as a pioneer in environmental and sustainability education. SYKLI is the only institution in Finland offering a one-year-long study program in Environmental Education for teachers and other education professionals, as well as programs in Circular Economy, Water Management, Carbon Neutrality and Sustainable Development.  Our aim is to enhance green competencies and increase quality in environmental education in all levels of the education system and throughout the society!  

Course program

DAY 1: Sustainability can take us anywhere! 
Arrival & registration
Welcome to Finland!
Some practical issues to make your life easier!
The adventurers – getting to know our staff & the group.
Getting to know Finland!
SYKLI Environmental College: Adult Vocational training – a Speedway to Green Transition?
LUNCH (at own expense)
Challenge of the Week: Tackling Sustainability Issues Through Education.
DAY 2: Tackling sustainability issues through education
CIRCULA – Gamified learning about the circular economy
GREEN CAMP – Introducing the Green Competencies defined in the European sustainability competence framework GreenComp. How to promote and create sustainable capabilities in people? Adding new tools to your pedagogical sustainability toolbox.
LUNCH (at own expense)
OUTDOORS: Environmental Education is like riding a bike!
Familiarizing ourselves with the Bicycle Model invented by Finnish researchers.
What components are needed in Environmental Education to make an impact?
Voluntary evening activity: Traditional Finnish sauna
DAY 3: Promoting well-being and sustainability competencies in nature
Travel to Nuuksio National Park, Espoo.
Finnish Nature – a guided tour in the exhibitions of Haltia Visitor Center
LUNCH "Flavours from Finland" (at own expense, or bring your own lunch)
Immersing in Nature. Finnish Forest Experience with multiple elements for your own well-being and stress management.
Coffee break in the woods: Carelian pie and other delicacies
Voluntary task on your own: Environmental Educator's Amazing Pace (Outdoor recreation in small groups, instructions given – no supervision)
DAY 4: Circular economy in practice
The Circula® Circular Economy and Entrepreneurship Game paints a picture of circular economy through creative teamwork. Circula® offers the players models for responsible business and sustainable lifestyle, self-awareness, and appreciation of one's own strengths as well as hope for a better future. Circula® excites both young and old alike. It is suitable for learners of different levels from 15-year-olds to adults.
LUNCH (at own expense)
Excursions (choose 1, min. 7 participants required per excursion):
Environmental Education in Action – Visiting a Finnish Primary School or kindergarten
Circular Economy in the Society: Vantaa Energy incineration facility
Sustainable wastewater treatment: Viikinmäki wastewater treatment plant
Experiencing circular economy: Heureka kiertotehdas (Kiertotehdas – Heureka) 
Outdoors: Excursion to PERHO Green City Farm

DAY 5: Inspiring others. Evaluation in Outdoor Mode.
Promoting sustainability at work: How to motivate and engage colleagues
Tools for reflection and evaluation.
LUNCH (at own expense)
OUTDOORS: Slowing down. Reflecting upon our learning journey. Course feedback
Course certificates, coffee, and cake. Thank you and goodbye!   

Course fee: As stated in the official documents of the Erasmus+ Programme, the course fee is 440 € (80 € per participant per day /400 € per person for a 5-day course + 40 € organizational costs. The course fee covers costs directly linked to the implementation of mobility activities, including monitoring and support of participants during the mobility and evaluation of learning outcomes. Any other cost will be covered by the applicant organization by using the grant received from the respective National Agency for individual and organizational support. The course fee must be paid by bank transfer before the course starts. The event will be confirmed one month prior to the beginning.  


Sign up for courses
We have four courses during the year 2024. Please register via the links below.
---
Previous courses
"OUT OF THE BOX – environmental education and outdoor learning in Finland" course is for all level teachers and others working in organizations that educate children and youth.
Nature is a diverse learning environment for schools and kindergardens in Finland. Outdoor learning is experimental, experience-based, hands-on learning in authentic learning environments. Outdoor learning gives also healthy physical exercise. The joy of learning is created through a wide range of outdoor practices. Social skills are also better strengthened outdoors. A good nature relationship and nature awareness is a first step towards a sustainable way of life.
The course program includes lectures, hands-on workshops, indoor and outdoor activities, and relevant visits focused on the following topics: environmental education and outdoor education, creativity in teaching, interdisciplinary and phenomen-based environmental outdoor education methods of teaching. As a part of their course, Erasmus participants will also meet up with some Finnish daycare and school teachers, to discuss and change ideas on how to teach environmental education outdoors. So be prepared to share your own best practices and ideas, too.
Feedback of the course:
"Among other things we did today we would have to mention Ulla's forrest workshop as very inspiring as well as the first time canoeing. It was both challenging and thrilling. The beauty of surrounding area, the stillnes of the lake and the soothing sounds of nature were the best way to end this day. So gratefull and blessed. Loved also the outdoors workshop and climbing the tree as well as low ropes combinations that put us into some serious teamwork. We're sure to take home and use lots of new and fun activities from today – both from Ulla's spontanious showhow (thank you Ulla, you're the best) and from Meri's forrest playground. Ukulele session was fun – especially to Marija who's son is a ukulele player and is up for a big surprise – he's getting his first ukulele from Finland. Truly enjoying every moment here – from serious work to sauna and the lake dive to singing and dancing with the finnish teachers in the evening."
Teachers from Malta
"It's not that we never had pancakes but when you have to do it from the scratch – make your own fire (if you're lucky) and then make pancakes by holding a pan like the old days well that's something special. Tuesday's walk through the wood was an excellent expirience in many levels. First obstacle – crossing the river had us all thinking like one as we had to do some serious teamwork. And we DID IT!! We found many of activities aside of being fun for us will also usefull for our work so we'll be taking them home with us. We enjoyed the nature – both plants, trees, fresh air and friskness of the air. Beautiful sunset at the lake was most amazing view. Looking forward to the days ahead and new things we learn."
Teachers from Croatia
" We came for ideas and to learn about how to get our children to learn outdoors but we received so much more. It is almost not describable in words. It was such a big added value for our lives as well.
The whole week learned us things on very different levels:
1. What we came for: to get activities and ways to do outdoor learning with children
2. To inspire us on school level to help us implement this, work with colleagues and parents.
3. The goal of Erasmus: to make new friends, learn about the differences and similarities in Europa, to enjoy each others culture.
4. The enrichment for yourself: getting to know your inside better, getting grip of some problems or situations or thoughts. We are so grateful for this course, which is not 'just' a course for us. A lot of that is thanks to the persons who are in the team of Sykli. We were inspired a lot!!!!!"
Ask more